Welcome to our shop!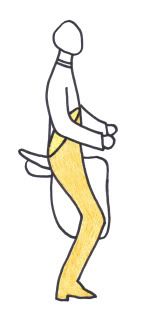 Rider Body Awareness DVD $25.00
Great riders use their seat for everything- not only to stay on and sit well, but for every request they make of the horse- slow down, speed up, change gait, turn, bend- it all comes from the seat. This DVD helps riders discover new ways to use their seat and torso to stay balanced and connected to the horse and also to give aids. Danee shows many many mounted exercises, which done indiviually are quite simple and can be done by any beginner. These exercises start by loosening and aligning the rider's body. Once aligned and moving with the horse the rider is given the knowledge needed to use the seat, torso, and weight aids for transitions and bending. As the rider progresses he or she can then start stacking the exercises in a way that would challenge the most advanced dressage rider. Because of this format riders can benefit from this DVD whether they rode for the first time yesterday, are avid competitors in any discipline, or are looking to learn more about bridle-less riding.
Better yet, there is no club to have to join to get a discount, there is no waiting for a holiday special to afford it, and there is no waiting for months to save enough money!!! This DVD is rediculously cheap for $25.00 (US dollars) every day. Yup, you're welcome ;-)









Rider Confidence and Sports Psychology $15.00
Audio CD
58 minutes
Learn how to understand your fear, break goals down into easily accomplished steps, use positive self talk, and good visualization techniques to help you turn your riding dreams into daily reality. Whether you are terrified to climb on, or are simply frustrated with your progress, this audio CD will help you set up action plans for making progress every day. $15








Women's Cut Short Sleeve T
Every one seems to love our rearing horse logo so we put it on a shirt. Shirts are 100% preshrunk cotton. Sizes come in small, medium, large, and 1X. Color choices are coral, lavendar, and lime. $15.00






Rudy Horsemanship Gift Certificates
Buy your friend or wife what she really wants- riding lessons! Can also be used on products on this page.

RudyHorsemanship@yahoo.com
Davin 717-623-3492 Danee 717-623-3409
Near Lebanon/Harrisburg/Lancaster Pennsylvania
81 Huckleberry Rd, Jonestown PA 17038
Riding Instruction, Dressage Training, Natural Horsemanship
Vaquero, Ranch, Haute Ecole

Web Design (c) 2009 Kate Causbie